Plot RF special operation in Donbass and Ukraine
Combat use of self-propelled artillery mounts on 2S23 "Nona-SVK" wheeled chassis was recorded in Ukraine with a 120 mm gun. This is an unusual multi-tasking weapon that can "work" like an anti-tank gun, a howitzer and even a mortar.
On a long journey
"Nona-SVK" — "land" version of "Nona", which was created for the Airborne Forces with the ability to parachute from aircraft. The infantry received a combat vehicle made on the basis of the BTR-80, which gives it a very unusual appearance. At first glance, it looks like an armored personnel carrier, but the rotating turret with a cannon makes it look more like a tank. Therefore, "Nona-SVK" second informal name — wheeled tank for the Ground Forces.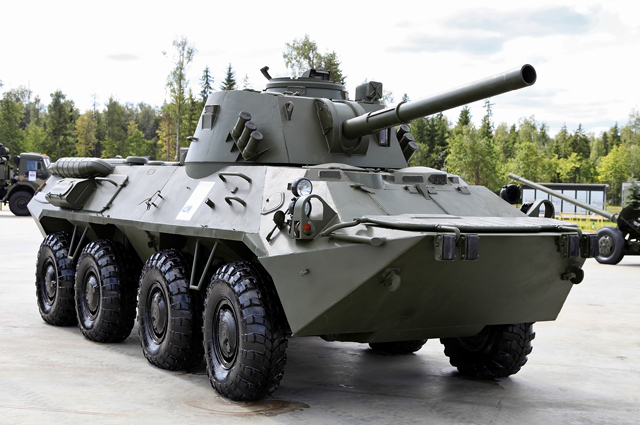 "Nona-SVK". Photo: Commons.wikimedia.org
According to its characteristics, it is an artillery weapon that has high mobility and maneuverability on the battlefield. The wheelbase allows you to quickly transfer this machine under its own power over long distances. On one gas station it can cover 600 km. The combat vehicle has a 260 hp engine. With. ACS, which allows it to accelerate to a speed of 80 km/h. The self-propelled gun is capable of swimming through water bodies, the maximum speed on the water surface — 10 km/h.
Punch through everything
First of all, this multifunctional cannon is needed to destroy the enemy manpower. He will not be greeted if the shells arrive at the position of artillery and mortar batteries, rocket launchers and command posts.
The main armament of this self-propelled guns — the 2A60 gun, which is capable of destroying various targets with conventional projectiles at distances up to 13 km. The ammunition load includes 30 shots, in the arsenal of self-propelled guns — high-explosive fragmentation, active-reactive and cumulative projectiles that can penetrate any armor of a modern combat vehicle. These projectiles, by design, should allow you to fight any tanks at a distance of about 1 km.
Also "Nona-SVK" can fire all types of 120-mm mines, including foreign-made ones. Adjustable ammunition KM-8 "Gran" was adapted for this gun. and "Kitolov-2", having a range of 9 and 12 km. These projectiles are guided using laser illumination.
The vehicle can only fire from a standing position, however, it is not necessary to prepare a firing position to open fire. It can fire from closed firing positions and direct fire.
For self-defense "Nona-SVK" equipped with a smoke screen system. Also in service with this machine is a 7.62-mm machine gun Kalashnikov tank (PKT). The crew, which consists of four people, is also armed with Igla man-portable anti-aircraft systems.
What's in the name
There is still no clear explanation why this weapon is called the Nona. . According to one version, that was the name of the wife of one of the designers. According to another, less romantic, it's just the abbreviation "New Ground Artillery Gun".
Rate the material